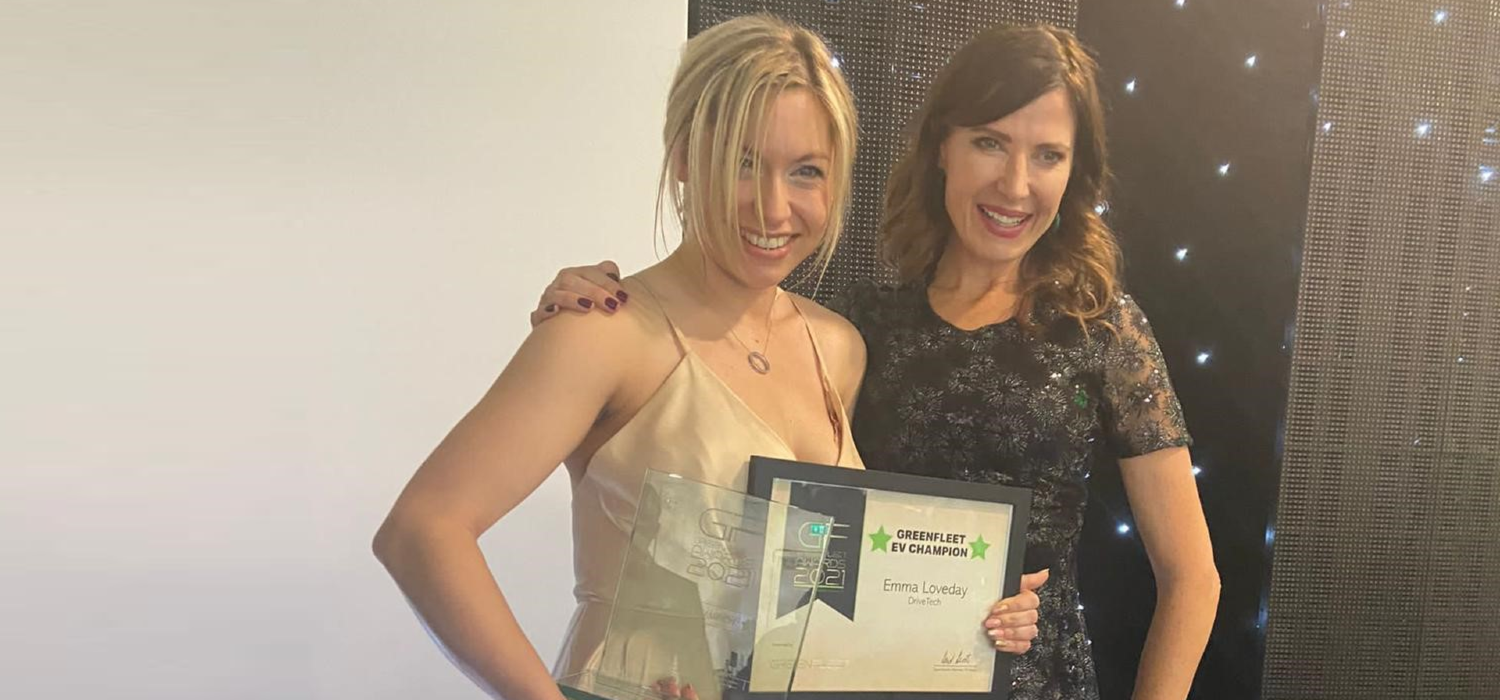 Drivetech, part of the AA and the UK's leading driver training provider, is celebrating Emma Loveday being named as an EV Champion at the GreenFleet Awards 2021. Held on 1st December at the British Motor Museum in Warwickshire, the awards celebrated the best in clean fleet innovation.
Emma Loveday, UK fleet risk and commercial development manager at Drivetech, has been key in raising awareness of Drivetech's support of businesses as they transition to EVs. She was one of just five EV Champions to receive the prestigious accolade and it was in recognition of the work she's done to champion the cause of EV uptake across the automotive industry. As well as being an active participant in the Drivetech Team in the EV Rally of Scotland during November along with "EV Keith" (Keith Freeman), Emma has appeared on a number of webinars and EV video interviews recently advocating the importance of driver training and education as fleets transition onto electric vehicle fleets.
Drivetech is a leading provider of EV training for all vehicle types, from e-scooters through to HGVs. Its innovative training options help equip drivers with the knowledge of EV operation, maintenance and driving strategies required to maximise safety and efficiency.
Charlie Norman, Drivetech's managing director, commented: "We are delighted to see Emma take home this highly impressive award. There's no doubt we are at a landmark point in automotive history as we move to an alternatively fuelled future, and it is vital that businesses have the right support in place to transition away from traditional fuels –  indeed, driver training and safety will remain a number one priority as firms make the switch."
"It is wonderful to be recognised in the EV space, as well as to share the title of EV champion with some incredible and worthy winners, including AA Business Services EV expert Dean Hedger," Loveday added. "Thank you to everyone at GreenFleet and to Drivetech for supporting me in what I like to do best – talk to anyone who will listen on the importance of driver education and training, especially when it comes to EVs!"
Find out more about Drivetech's EV range of training services here: https://www.drivetech.co.uk/global-business-fleet-solutions/training-product/driving-electric/ 
Back to news and resources