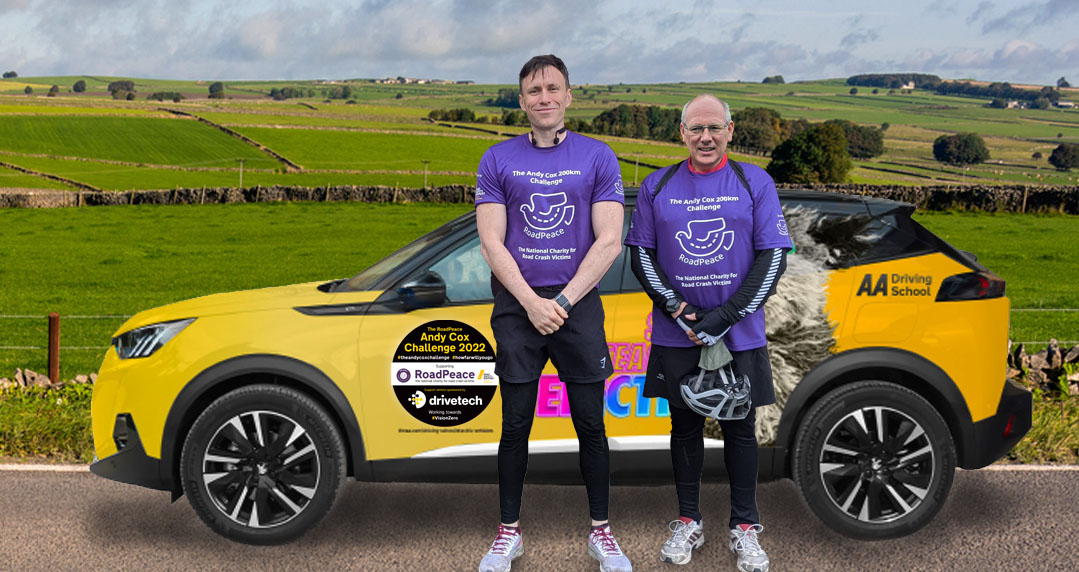 Drivetech is providing an electric-powered support vehicle for Chief Supt Andy Cox's fundraising challenge to walk, run and cycle more than 200 miles for RoadPeace
The fundraiser will cover 30 miles a day over seven days between May 16 and 22
This is the second year that Drivetech has sponsored the event
Drivetech, part of The AA, selected RoadPeace as its charity partner in 2021. The driver training specialist is committed to promoting safer driver and is providing £5,000 'gold' sponsorship along with an EV Peugeot support car to this year's event.
Andy has increased the distance covered by almost 100 miles over last year's successful challenge which raised more than £50,000 for the charity. RoadPeace supports and empowers those bereaved and injured by road crashes and works to improve the justice system's post-crash response, as well as raise awareness to help spare future generations from preventable death and injury.
The challenge will visit the following places to highlight some of the tragic road deaths that have taken place in each area.
Day 1 – Isle of Wight
Day 2 – Sussex
Day 3 – London
Day 4 – Lincolnshire
Day 5 – Sheffield
Day 6 – Manchester
Day 7 – Staffordshire finishing at the National Arboretum
Detective Chief Superintendent Andy Cox's route for 2022 will travel 'From Force to Family' – starting at a Police Station and travelling to people affected by road death and injury, who will tell their stories to shed light on the five people killed every day on our roads.
Colin Paterson, Head of Marketing at Drivetech is planning to join the challenge on the Sussex or London leg of the tour. He will be joined by Des Morrison, Drivetech's Police business director to complete the final Staffordshire stage of the tour.
 "We chose RoadPeace as our charity partner because of the vital support it provides to injured road victims and bereaved families, as well as its drive to reform the justice system in relation to collisions and their victims. It's a wonderful charity and I'm delighted that Drivetech is able to support its work for a second year," explains Colin.
"We're also exceptionally grateful to our sister company AA Driving School for the loan of a Peugeot 2008 EV to provide back-up to Andy during his week on the road."
Nick Simmons, CEO of RoadPeace, commented: "I want to say a huge thank you to Drivetech for selecting RoadPeace as its nominated charity partner. It's an incredible challenge that Andy's undertaking, not only to raise money for our charity but further raise awareness of the issue of road safety."
 #AndyCoxChallenge  #HowFarWillYouGo
Visit Andy Cox's fundraising page here
To find out more about RoadPeace visit www.roadpeace.org
View our messages of support here:
Back to news and resources