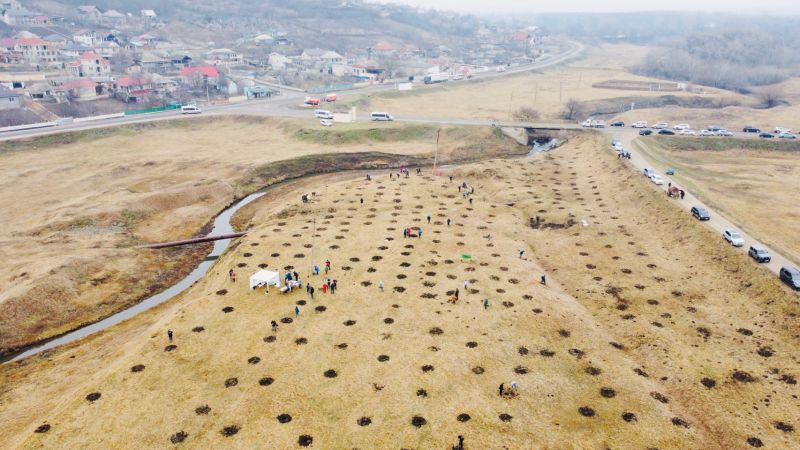 As an integral IT partner to the creation of a significant new system within Drivetech, the company has been commissioning the services of Amdaris to provide support in software development, application support and consultancy. Drivetech is the leading provider of driver training and driver risk management.
A key new initiative of the Amdaris carbon neutrality commitment (neutral in the next 5 years) includes the planting of hundreds of trees in Moldova, one of the locations where Amdaris operates. In March over a hundred trees have been planted on the banks of the River Ichel with more planting plans soon, with much of the work supported by Amdaris staff.
Amdaris has been naming sections of their 'co-forest' development with key client names, and Drivetech is honoured to have a section named after it. The initiative was made possible thanks to Amdaris' client partnerships, with a proportion of profits used to fund the project.
Commenting on this project Vlad Nanu, Amdaris Co-CEO, said: "I am pleased to say we have taken our first steps towards carbon neutrality with our Amdaris forest planting initiative. This was made possible thanks to our wonderful clients, with a proportion of our profits used to fund the project. Our staff have given their full support with generous donations and even getting their hands in the earth to help plant the first 1,000 trees. This is just the beginning of our Amdaris forest, and I'm very proud of, and thankful to, everyone who has helped us make it happen."
Ian Dudley, Drivetech IT Director, added: "We are really proud to be associated with such a bold carbon neutral initiative and are grateful to the team at Amdaris for giving us such a prestigious name recognition. We will be keen to watch this forest grow and flourish over the coming years."
About Amdaris
Amdaris deliver innovative Software Development, Application Support Managed Services and Consultancy Services from their HQ in the UK and delivery centres in Eastern Europe, run by co-CEOs Andy Rogers and Vlad Nanu and backed by BGF.
For more information visit, Amdaris.com
Back to news and resources