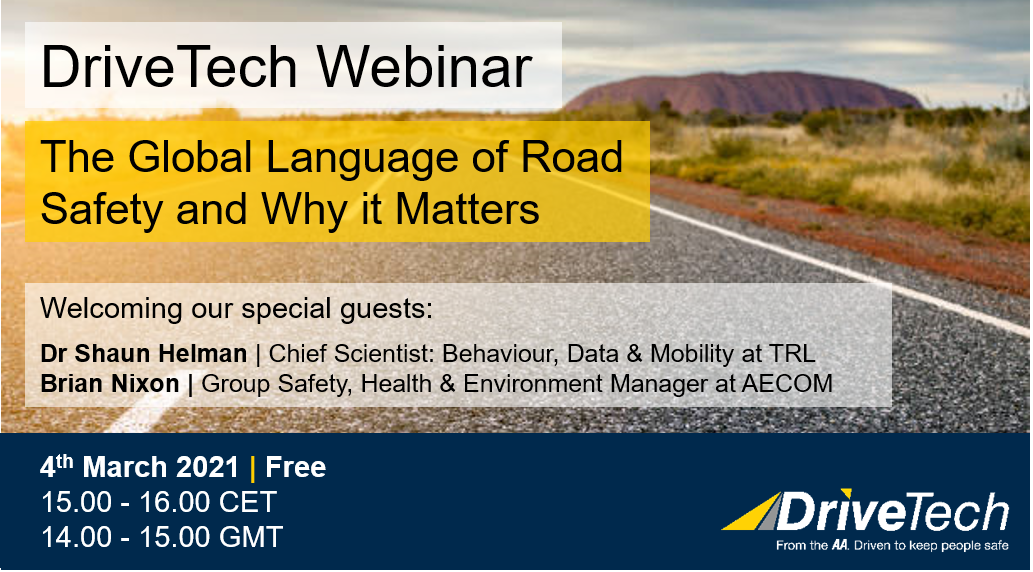 Join Drivetech , Brian Nixon from AECOM, and Dr Shaun Helman from TRL  on 4th March 2021 for an impactful and communicative webinar on 'The Global Language of Road Safety and Why it Matters.'
This webinar is designed specifically to equip professionals who manage aspects of fleet safety to reduce risk for their drivers, and help them to run a safer and better fleet in 2021.
Road traffic deaths and injuries can be prevented, they are not inevitable. Yet, in the UK alone, there are still in excess of 400 casualties, of all severities, on the roads every day. Globally, research shows that a road death occurs every 24 seconds. It's important to stress that we don't have to accept these casualties as a consequence of using the roads, but we do all have to take responsibility to engender change.
Preventing collisions takes work from a range of sources, but there's undoubtedly a crucial role businesses can play. Key to increasing safety is how we communicate with other road users, specifically the language used. Therefore, how a business communicates road safety to its employees has a direct impact on how they behave.
During the webinar, we'll discuss:
The reality of global road safety today: in numbers, and exploring the 'why?'
How communication and behavioural change can contribute to falling death and injury rates
The language of road safety, and what you can do to more effectively inspire positive action
You'll leave the webinar with new insights, skills and techniques to more effectively run a safer and better fleet in 2021. You'll also be the first to receive a free copy of our new white paper "The Global Language of Road Safety and Why It Matters", directly into your inbox.
Hear from:
Madelon Jansen, Drivetech International Business Development Manager
Dr Shaun Helman, Chief Scientist: Data, Behaviour and Mobility, Transport Research Laboratory (TRL)
Brian Nixon, Group Safety, Health and Environment Manager at AECOM.
And participate in a vibrant discussion and Q&A session with our expert panel.
When?
The webinar will take place on Thursday March 4th  3pm CET (2pm UK GMT) and we encourage all fleet decision makers and anyone involved in the running of a safe and successful fleet to join the discussion.
Back to news and resources