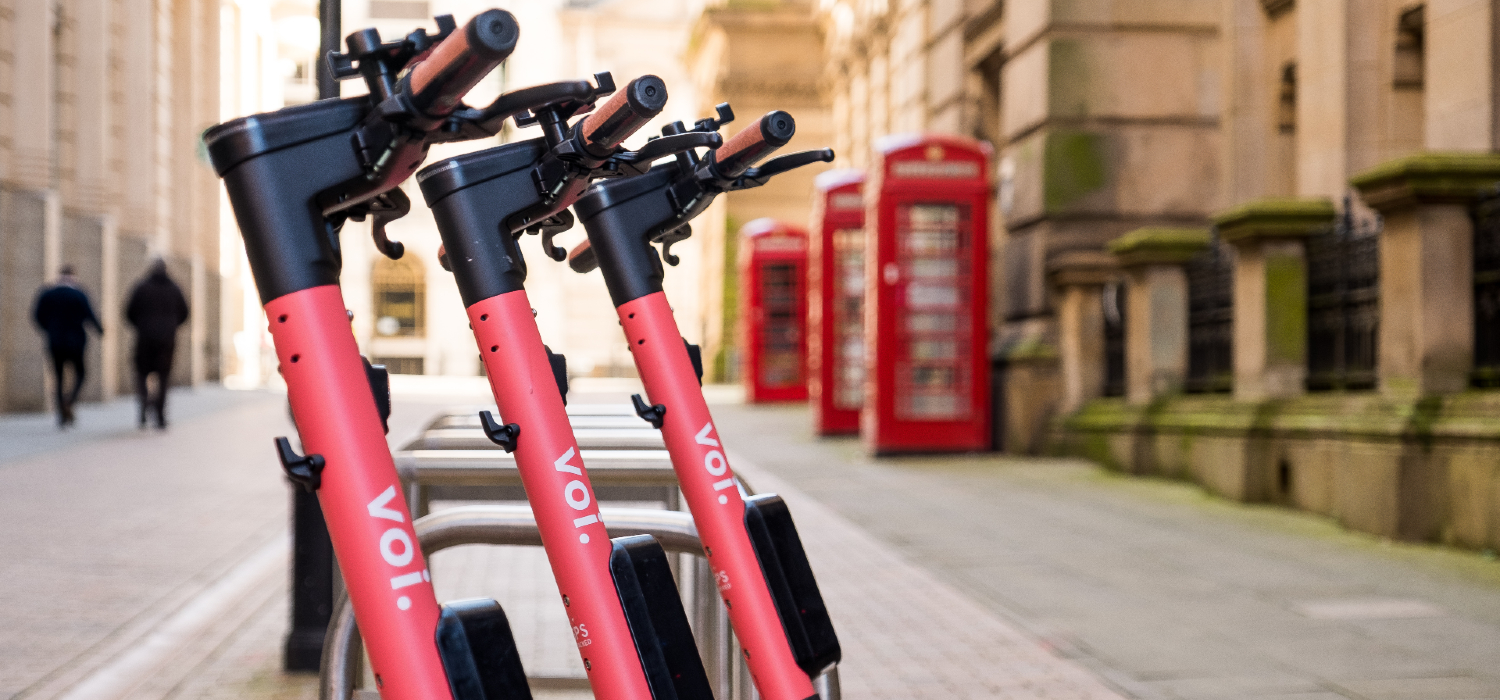 Drivetech, leader in driver risk management and training, has teamed up with Swedish micro-mobility operator Voi Technology to deliver an innovative training programme to support the UK-wide commitment to encourage the safe use of its e-scooters.
Voi is a leading player in the shared micro-mobility marketplace across Europe and as part of the DfT (Department for Transport) authorised shared e-scooter trials, Voi has already secured rental operations that are up and running in fourteen locations around the country. This includes Northampton, Birmingham, Liverpool, Bath, Bristol, Cambridge, Oxford, Kettering and Peterborough, to name a few.
As the Covid-19 pandemic continues to dramatically alter the transportation landscape, academics, politicians, and experts continue to cite e-scooters as an important feature in the future of mobility in urban centres. This is because they can easily be integrated with public transport, replacing short car journeys.
Drivetech, part of the AA, has worked in collaboration with the Voi team to produce an online learning module. It is intended to enhance and complement Voi's existing safe-rider education programme, including its dedicated riding school – RideLikeVoila – the world's first digital traffic school for e-scooters, which has trained over 500k users to date. The content of the new e-module focuses not only on the e-scooter rider but also on other road users, including vulnerable ones, and how collectively we can ensure safer roads for all.     
The Drivetech-developed learning module covers key aspects of riding a Voi e-scooter in the UK safely and responsibly. It informs and educates on areas such as safe and sensible parking, responsible riding behaviour, and recognition for other road-users and pedestrians. It also includes a quiz to test learning at completion, which incentivises riders to complete the course.
Voi is also rolling out online safety webinars for users or anyone interested in finding out more about riding and parking a scooter safely, which includes content from the learning module developed in close collaboration with Drivetech. Information on the webinar can be found on www.voiscooters.com/safety/, and users can join by signing up via Eventbrite.
Richard Corbett, Regional General Manager of UK, Ireland and Benelux for Voi, said: "We have a core commitment to rolling out our shared rental e-scooter programme safely and responsibly. This takes into consideration the needs and concerns of a wide group of stakeholders. For example, we are working with the RNIB to understand the needs of blind and partially-sighted people. Safety has been our top priority since day one, and working with Drivetech is a positive reinforcement of this commitment."      
Colin Paterson, Head of Marketing at Drivetech, added: "It was clear from talking to our Voi colleagues that safety was simply not going to be a tick-box exercise. The team was passionate to include a component in the learning module that addresses other road users to ensure they are aware of, and sensitive to, the additional presence of e-scooters, and RideLikeVoila is pretty pioneering stuff."     
Note to editors
The e-module created in close collaboration with Drivetech can be accessed here: www.voiscooters.com/safety/
About Drivetech
Drivetech, a business wholly owned by the AA, serves the business driver community in the UK and internationally providing a range of driver risk management and driver training services, and is also the UK's largest provider of police diversionary training courses working with 34 police forces across the country.
For more information on Drivetech's global driver and rider risk management services, visit https://www.drivetech.co.uk/global-business-fleet-solutions/.   
About Voi
Founded in August 2018, Voi is a Swedish micro-mobility company offering electric scooter sharing in partnership with cities and local communities. We believe e-scooters can play a central role in changing how people move in our cities in the future. And we want to make sure that the transformation happens the right way – through real innovative technology, open and transparent dialogue with cities and Governments and by adapting our products to local needs. Jump on a scooter whenever and ride wherever in the city in just minutes – completely carbon-neutral. Voi has been a carbon-neutral company since January 2020 and has adopted the United Nations' Sustainable Development Goals (SDGs) as a guiding framework, and has also set a clear agenda for reducing and offsetting emissions.
Voi operates in 50+ cities across 11 countries. It is headquartered in Stockholm and employs over 400 people. To date, Voi boasts more than 6 million users and has served 30 million rides.
Back to news and resources