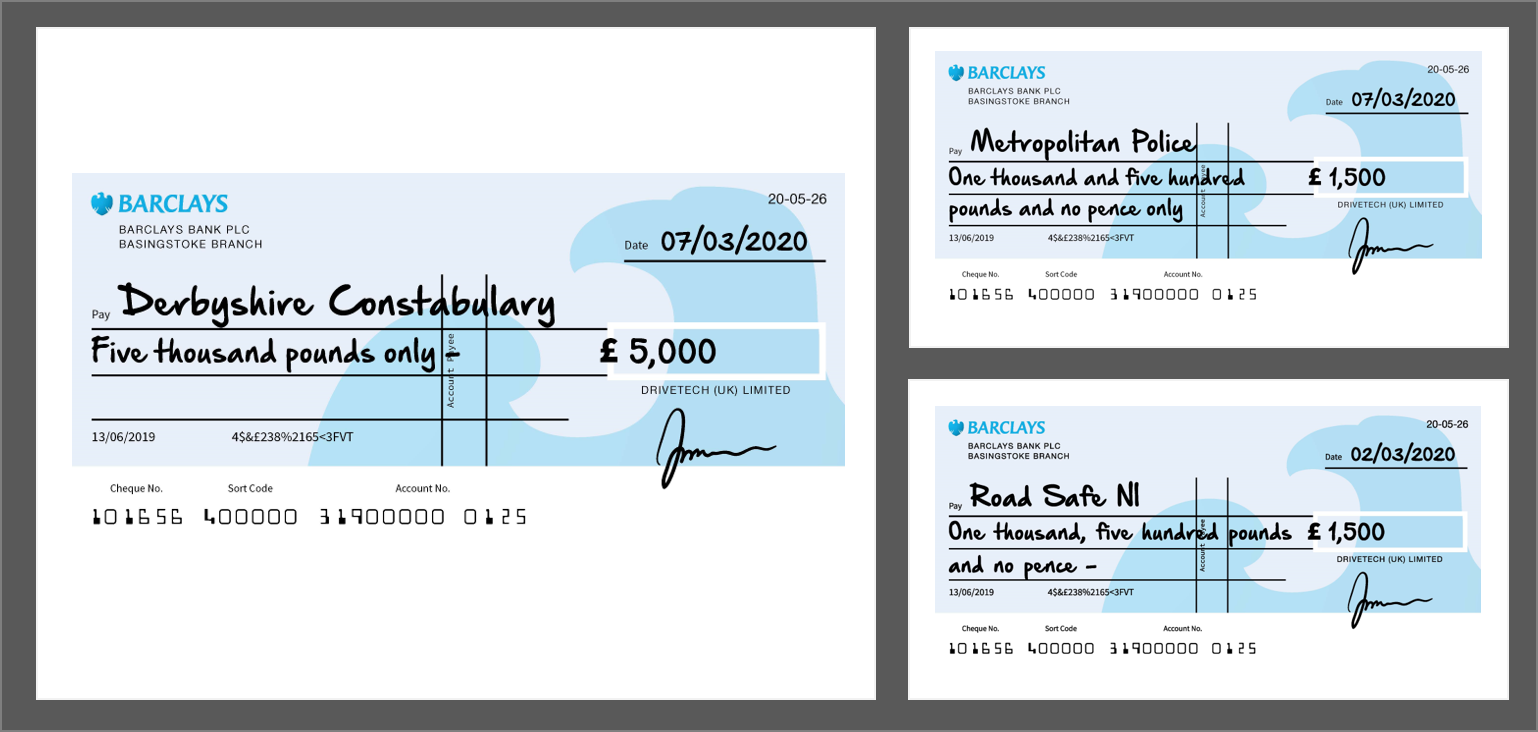 Winners of Drivetech's 2019 Vision Zero Awards
Drivetech is focused on road casualty reduction and safer roads.
 
The 2019 Drivetech Vision Zero Awards were launched to the UK police forces in July of last year. The aim of 'Vision Zero' is to reward campaigns or initiatives designed to have a practical benefit in helping improve road safety with the desire to significantly reduce road deaths. In its second year, we are keen to expand the appeal and the awards will be available to anyone operating significant road safety campaigns within a police territory.
In its inaugural year, we were delighted by the number of entries and would like to say a huge thank you to everyone who submitted their ideas. All submissions were of a really high standard and certainly made it a hard decision for our judges.
 
For 2019, the winners were:
 
In first place, securing £5,000 to be used towards their campaign was Derbyshire Police. The aim of their campaign, UpRight, is to encourage less experienced or returning-to-biking riders to join road safety organisations such as RoSPA and Institute of Advanced Motorists (IAM) or to attend the Enhanced Riding Scheme run by a select few riding schools in Derbyshire. UpRight is achieving engagement, encouragement and education to riders.  They work in full collaboration with Derbyshire Fire and Rescue Service who have started to run the national Biker Down program. Biker Down and UpRight are two different entities that work together to support one another in an effort to reduce casualties and collisions on the road.
The runners up, both securing £1,500 towards their campaigns were:
 
Met Police: with their A10 Roads Policing Initiative. Vision Zero A10 was established to reduce fatalities, excessive speed, dangerous anti-social driving and illegal "car meets" on the A10 and environs in Enfield. The majority of offences and multiple fatalities occurred on the stretch between the A406 and the M25. Collision data showed this to be the riskiest road in NW London. A coordinated response was required, answering pleas from the local community and demonstrating the MPS and RTPC (MPS) commitment to Vision Zero. RTPC aspire to fulfil the Mayor's vision – zero fatal collisions in London by 2041.
 
Road Safe NI: Northern Ireland Road Safety Charity supporting Primary Schools Road Safety Education. The charity based in Northern Ireland is staffed completely by volunteers. They run several road safety initiatives each year depending on sponsorship received. The main activities are a primary school road safety quiz. They invite every school in Northern Ireland to take part in 11 heats across the country with a NI Final in Belfast. To prepare for the quiz the school's study 'Road Safety' in class and at home so the message not only gets to the kids taking part but also their peers and parents/guardians.
 
Congratulations once again to the winners. We would also like to extend our congratulations and thanks to all the entrants, not only for taking the time to share their campaign ideas, but also for the incredible work that goes on to help make our roads safer. Presentation photos will be coming soon.
A final thank you goes to our judging panel: Charlie Norman, lead Director at Drivetech; Des Morrison,  Director Police & Public Sector Contracts; Ruth Purdie, Chief Operations Officer and Director at UKROEd; and Mark Turner, Chief Executive at the Road Victims Trust. We were delighted to have the valued input from Ruth and Mark to help ensure our judging was balanced, rigorous and objective.
 
Details of the 2020 Vision Zero awards will be coming soon. This will be announced shortly on our website and via our social media channels. Follow us on: Drivetech.co.uk | LinkedIn | Twitter | Facebook
Back to news and resources